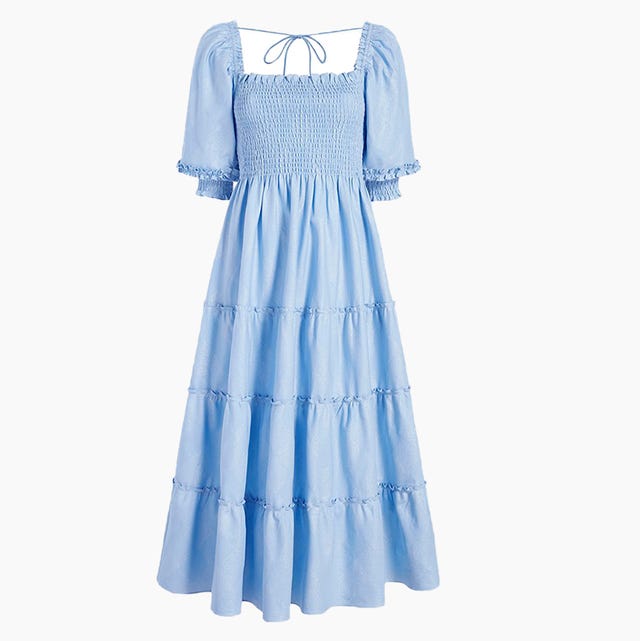 Courtesy
Alert: Mother's Day is officially nine days away. And for moms-to-be, this day is especially important. The ones you know have probably nested with virtual lamaze classes and a library's worth of parenting books, so spoil the expecting mother with unexpected gifts. In this roundup, you'll find practical home goods, thoughtful beauty picks, and the epitome of luxury—a brand new mattress. These gifts just might bring a tear to her eye, and it will have nothing to do with pregnancy brain.
Cutting it close to the deadline? Check out our roundup of the best flower and plant delivery services if you're in a pinch.
1 of 31
The Nesli Nap Dress
Hill House
hillhousehome.com
$125.00
The term "nap dress" speaks to her on a spiritual level. 
2 of 31
Mom & Me & Mom
by Maya Angelou
bookshop.org
$23.92
Wisdom from the late Maya Angelou is always welcome.
3 of 31
Arizona Essentials EVA Sandals
Birkenstock
amazon.com
$42.90
She'll be living in these until her baby turns into a toddler. 
4 of 31
Sparkling Water Maker
SodaStream
amazon.com
$89.99
Since getting pregnant, fizzy water has become her only vice.  
5 of 31
Printed Slim Knotted Headband
Lele Sadoughi
shopbop.com
$45.48
There will be days when she feels like she doesn't have time to take care of herself. A cute headband is an easy fix that will instantly perk her up. 
6 of 31
The Doula Deck for Expecting and New Moms
With empowering phrases like "My body is enough," this card deck will help her with mindfulness during and after her pregnancy. 
7 of 31
Francesca Birthstone Stud
White Space Jewelry
whitespacejewelry.com
Gift her the birthstone of her future tiny tot.  
8 of 31
Air Fryer
When someone owns an air fryer, everyone wins.  
9 of 31
Cacao Turmeric Latte Blend
She misses coffee. Like really misses coffee. 
10 of 31
Love at First Sight Sonogram Frame
Pearhead
amazon.com
$12.98
If you want to make her cry, this gift is the way to go.  
11 of 31
Celia Scuff Slipper
Caslon
nordstrom.com
$29.95
These days, she's rarely not in slippers. Gift her a fun pair. 
12 of 31
1st Trimester Pregnancy Gift Box
Bump Boxes
amazon.com
$49.99
You can choose these no-brainer boxes according to which trimester she's in.  
13 of 31
Maternity/Nursing Bra
Bravado Designs
nordstrom.com
$34.30
This maternity bra is backed by over 2,000 raving reviews on Nordstrom. Stock her up now before the baby comes and she'll be eternally grateful.
14 of 31
Mother's Day GIfts
Salvatore Ferragamo
ferragamo.com
$2,500.00
Give her a bag that makes her feel like her, not just a mom. 
15 of 31
68 oz Laundry Detergent
Pur Home
shoppurhome.com
$15.95
If she's interested in ditching household chemicals, consider gifting her natural home products. 
16 of 31
Classic Iconica Colour Ring
Pomellato
pomellato.com
$5,550.00
She'll remember this ring forever (and eventually pass it down to her children). 
17 of 31
Classic Bathrobe
Snowe
snowehome.com
$98.00
Mother's Day gifting and bathrobes go hand in hand. Get her the best with Snowe's luxurious style. 
18 of 31
Essential Caftan Stripe
Galerie
galerie.la
$188.00
She will be living in this easy caftan this summer. 
19 of 31
14k Engraved Necklace
Zoe Chicco
zoechicco.com
$975.00
Personalized jewelry for the mom-to-be is a foolproof way to go. 
20 of 31
Sling Nursing Pillow
Humble-Bee
nordstrom.com
$39.98
Go hands free during nursing, as fellow moms say this really cuts out wrist aches. 
21 of 31
Live In Maternity Crop Leggings
Zella
nordstrom.com
$59.00
Feel secure and cozy in these leggings 
22 of 31
Pregnancy Pillow with Jersey Cover
PharMeDoc
macys.com
$69.99
Be supportive in every sense for your mom-to-be! 
23 of 31
Mummy To Be Notebook
Smythson
smythson.com
$55.00
Be an organized mummy with this notebook, which has separate sections for a to-do list, nursery prep, baby shopping, and gifts and thank you notes that will need sending. 
24 of 31
The Wraparound Jumpsuit
Hatch
hatchcollection.com
$278.00
If you're going to gift actual maternity wear, check out Hatch. They make the cutest mommy clothes that can also be worn post-pregnancy. 
25 of 31
Honey Almond Skin Buttr
Skin Buttr
skinbuttr.com
$100.00
Every mom needs a reliable moisturizer. Her search will stop here.  
26 of 31
Mommy-to-Be Wash
The Honey Pot
thehoneypot.co
$35.00
Post-partum, she'll thank you for this gentle gift. 
27 of 31
Catch:3 Wireless Charging & Accessory Organization
Courant
saksfifthavenue.com
$175.00
For multitasking moms-to-be, this charging station will keep all your of essentials right by your side and at 100%.
28 of 31
Silicone Case & Modular Landyard
For moms-to-be on the go, they will never loose site of their phone again.
29 of 31
Dohm Natural Sleep Sound Machine
Yogasleep
maisonette.com
$49.99
30 of 31
Dragonfly Blanket Knitting kit
We Are Knitters
weareknitters.com
$37.80
Nothing is more special than a gift she gets to create for her little one's arrival.
Advertisement – Continue Reading Below
This content is created and maintained by a third party, and imported onto this page to help users provide their email addresses. You may be able to find more information about this and similar content at piano.io