To all the bag lovers who've never had enough pockets, Lana Condor's new Vera Bradley Utility Backpack is here to hold your lipstick, that mystery novel, and your favorite pair of designer sandals, too. In collaboration with the bag and luggage company, the To All the Boys: Always and Forever star custom designed a backpack that's sustainable, chic, and worth carrying anywhere, any time. "I'm from a family of women that have always been huge fans of the brand," Lana told POPSUGAR. "And I remember when I was younger, when my mom gave me my first Vera Bradley [Petal Pink Duffle] bag — it felt like a rite of passage. Then coming full circle and being able to work with the brand, and also design a bag, felt like a dream come true; and it's unreal."
"I had someone tell me once that pockets are like the woman's unicorn. We love our pockets."
Lana definitely had function in mind while designing the handy (and washable) backpack, but the hidden style details are what truly make the bag pop: See the floral interior lining that prevents your bag from turning into a "dark hole" and losing your chapstick. "I chose black because I felt like it was versatile. Then, because I love pink — and I will forever love pink — I did these pink detail lines on the zippers, and then a really chunky, awesome clasp," Lana said, pointing out the blush trim, chunky security clasps, and hidden pockets on the lightweight bag. "I had someone tell me once that pockets are like the woman's unicorn. We love our pockets."
Lana's boyfriend, Anthony De La Torre, was also the inspiration behind one major detail on the bag: the huge zip side pockets. "They're so convenient, and I've never had a bag that has a side pocket like that," she said. "So I put them on my bag because I was like, 'It's not just for you anymore, Anthony.' Lana gets her side pockets [too].'"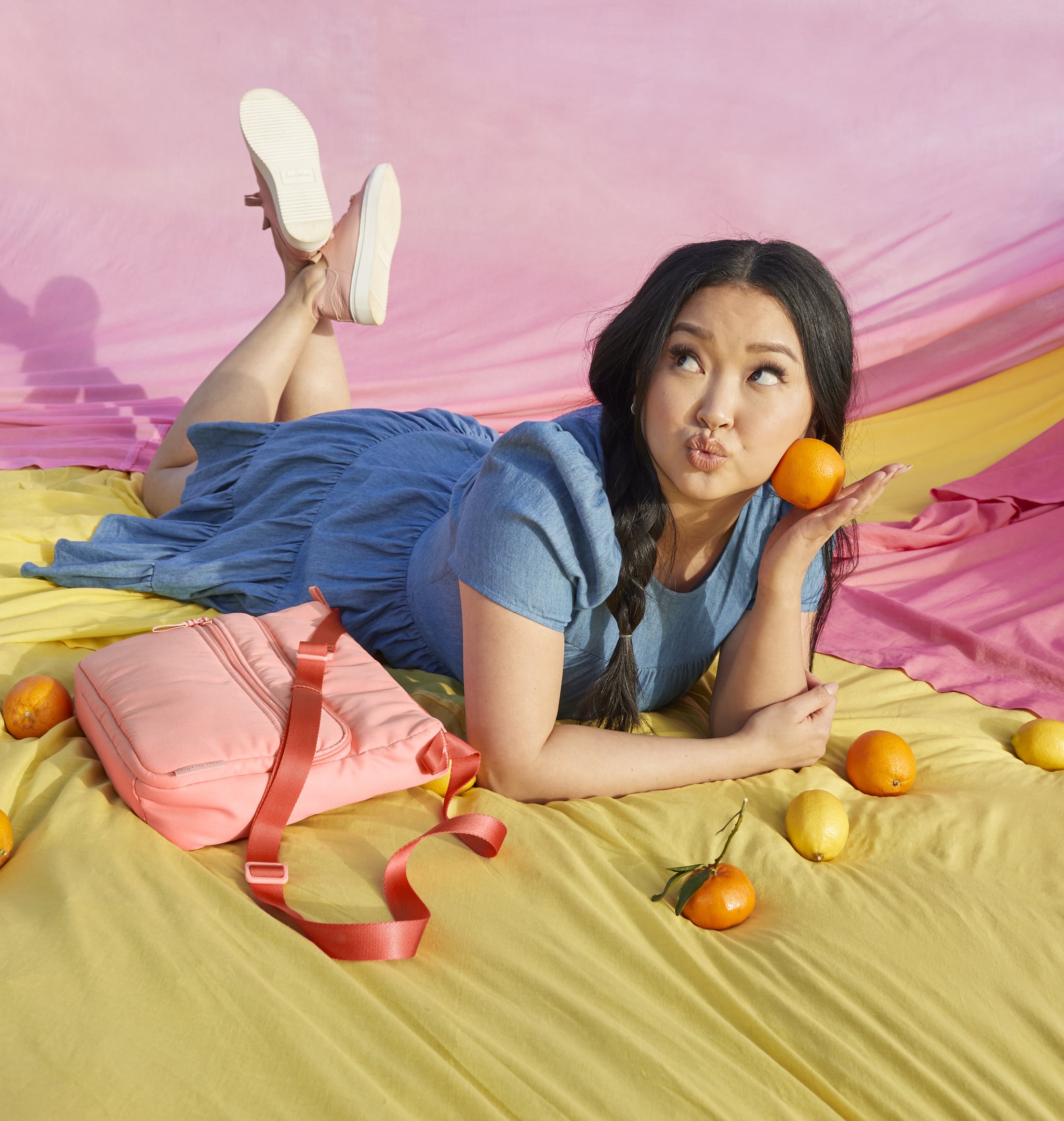 Image Source: Vera Bradley
So what does she keep in her backpack? Oh, the usual: her iPad, a thriller novel, lipstick, a brow pencil, hand sanitizer, sheet masks (Neutrogena), eye masks (Skyn Iceland), and dog treats, of course. "I [keep] treats for my dog, but also treats for other dogs, because when I don't have my dog, I like to keep treats in my bag because then I'll see a dog on the street and be like, 'Oh, I have a treat for your dog,' and I'll give it as an excuse to just like play with that dog," she said.
When it comes to styling outfits around the bag to run errands, Lana recommends a monochrome Girlfriend Collective athleisure look, which she'd probably pair with platform slides or "pillowy cloud shoes." For school, a pink cutoff blazer paired with a white tank top and jeans would totally work. And for traveling? Definitely a white T-shirt tucked into boyfriend jeans with a long, oversize black or tan trench coat.
Plus, in an effort to lower its water scarcity and global warming impacts by 2025, Vera Bradley's entire collection is made of 50 percent recycled cotton. "You can feel really good while you shop and feel really good while you use the piece because you know that it's helping the planet and you're choosing to live a more cautious lifestyle," Lana said. "Feel good. Look good. Be good. Help the planet Earth."
After explaining that she plans to go all out during red carpets this year, because "enough is enough," Lana, aka Netflix Style Icon No. 1, took the time to share the best piece of fashion advice she's ever received: "Take chances. Ultimately, you want to take chances, have fun. Not everyone's going to love what you're wearing on the day, but if you love it, who cares? Dress for yourself. Wear what makes you happy. Wear what makes you feel good."
Check out the full Vera Bradley Recycled Cotton collection ($15-$140) — including the Lana Utility Backpack, tote bags, duffels, crossbody bags, and more — in a range of solids and patterns, here.